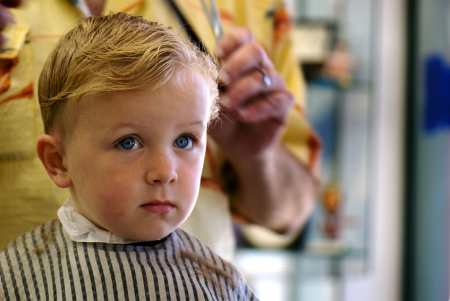 A
t Buzzes and Beehives, your child's comfort is of upmost importance to us. Our stylists are specially trained to accommodate any special needs your child may have.
Some service modifications that can be made to help ease haircut anxiety include, but are not limited to:
Avoid directly spraying hair with water bottle, instead wetting comb or hands to gently dampen hair.
We use the quietest clippers and trimmers available…we know the loud buzzing sound can be quite intimidating, especially for a child with sensory sensitivities. If you prefer, we can completely omit use of clippers and trimmers and opt for a scissor-only cut.
We will turn your child away from the mirror while cutting.
We have an array of distractions, from movies to bubbles to books.
Come visit us before the actual haircut day. Your child can play, look around, and just get the feel of the salon before getting their haircut. You can stay for as little or as long as you like….we enjoy the company!
If the chaos of a busy salon is too much for your little one, please let us know. We will be happy to work with you in scheduling an appointment before or after regular business hours for a calmer, quieter experience.
We realize that some kids require a little more TLC to get the job done. If there is any other way we can help you in making the haircut experience a positive one, just ask.